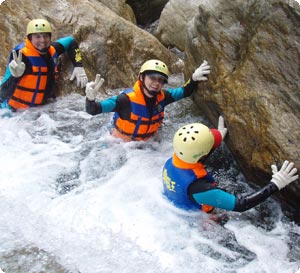 River Tracing, widely known as Canyoning in most countries, is an increasingly popular outdoor activity in Taiwan that involves walking, wading, climbing and trekking through rivers. The term River Tracing comes from the Japanese word "Kanazawa Teng," meaning "to climb along the valley."
On guided excursions, our certified River King instructors will lead you upstream through beautiful natural environments to waterfalls and rocks where you can wade in the river, jump off rocks, and learn about the surrounding areas. River Tracing is a fun, safe, and exhilaratin activity that can be done by all people of any age and skill. No level of physical ability or technical skill is required. The activity combines both leisure and sport as it allows people to explore unique areas of Hualien and soak in Taiwan's most beautiful attraction, its natural environment.
The River King offers half-day and full-day tours to 6 different rivers that are less than a 20-minute drive from Hualien City. All our instructors are certified in First Aid, Lifeguard Training, Rift Water Rescue, and Risk Management.